Are there any new matches coming soon from ManilaFights ? Yes, of course !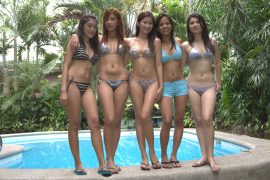 The latest wrestling tournament was filmed in April 2008 and clips will be published in the coming months. In the picture above you can see the women who wrestled (left to right): Silver, Leah, Nikki, Rhoan and Carla.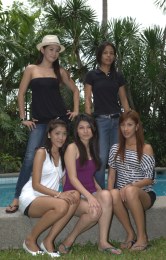 Leah and Rhoan are well known to everybody and they are our most skilled fighters.
Silver and Nikki are our sexy and lithe new entries and they are ready to start fighting under pin and submission wrestling rules, after they received their initial training.
Carla is also new to wrestling, but she comes with so much strength and energy that can she can put our champions in trouble since her very first match !
Match list:
Leah vs Rhoan
Nikki vs Silver
Carla vs Rhoan
Leah vs Silver
Carla vs Nikki
Not every match will end up on the web site, some of them won't be released if their quality level is not good enough, especially if the action is too weak or too one-sided. Only real competitive wrestling here !